Headline Text Placeholder About Home Automation
_____________________________
"Home Automation" is the residential extension of building automation. It is automation of the home, housework or household activity.
Home automation may include centralized control of lighting, HVAC (heating, ventilation and air conditioning), appliances, security locks of gates and doors and other systems, to provide improved convenience, comfort, energy efficiency and security. Home automation for the elderly and disabled can provide increased quality of life for persons who might otherwise require caregivers or institutional care.
The popularity of home automation has been increasing greatly in recent years due to much higher affordability and simplicity through smartphone and tablet connectivity. The concept of the "Internet of Things" has tied in closely with the popularization of home automation.
HVAC
Heating, ventilation and air conditioning (HVAC) systems can include temperature and humidity control, including fresh air heating and natural cooling. An Internet-controlled thermostat allows the homeowner to control the building's heating and air conditioning systems remotely. The system may automatically open and close windows to cool the house.
Lighting
Lighting control systems can be used to control household electric lights. Lights can be controlled on a time cycle, or arranged to automatically go out when a room is unoccupied. Electronically controlled lamps can be controlled for brightness or color to provide different light levels for different tasks. Lighting can be controlled remotely by a wireless control or over the Internet. Natural lighting (daylighting) can be used to automatically control window shades and draperies to make best use of natural light.
Audio-Visual
This category includes audio and video switching and distribution. Multiple audio or video sources can be selected and distributed to one or more rooms and can be linked with lighting and blinds to provide mood settings.
Shading
Automatic control of blinds and curtains can be used for:
Presence simulation

Privacy

Temperature control

Brightness control

Glare control

Security (in case of shutters)
Security
A household security systems integrated with a home automation system can provide additional services such as remote surveillance of security cameras over the Internet, or central locking of all perimeter doors and windows.
With home automation, the user can select and watch cameras live from an Internet source to their home or business. Security systems can include motion sensors that will detect any kind of unauthorized movement and notify the user through the security system or via cell phone.
The automation system can simulate the appearance of an occupied home by automatically adjusting lighting or window coverings. Detection systems such as fire alarm, gas leak, carbon monoxide, or water leaks can be integrated. Personal medical alarm systems allow an injured home occupant to summon help.
Intercoms
An intercom system allows communication via a microphone and loud speaker between multiple rooms. Integration of the intercom to the telephone, or of the video door entry system to the television set, allowing the residents to view the door camera automatically.
Headline Text Placeholder About Home Automation Services
A home automation system integrates electrical devices in a house with each other. The techniques employed in home automation include those in building automation as well as the control of domestic activities, such as home entertainment systems, houseplant and yard watering, pet feeding, changing the ambiance "scenes" for different events (such as dinners or parties), . Devices may be connected through a home network to allow control by an automation system, and may allow remote access from the internet. Through the integration of information technologies with the home environment, systems and appliances are able to communicatein an integrated manner which results in convenience, energy efficiency, and safety benefits.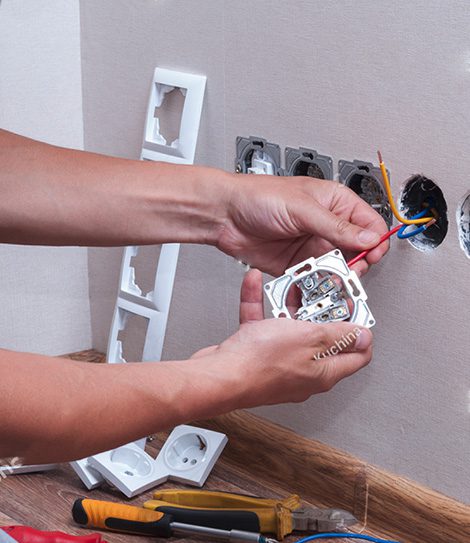 Homes that are built today without an upgraded wiring system will not be able to expand to accommodate the demands of new technologies. Without such wiring infrastructure, Homes will not be able to retain value.Structured wiring in your home will add value and will make it more attractive if you ever wish to sell.
Structured wiring combines all the technological wiring in your home. This can include your:
network
digital telephone
surveillance video
audio
digital alarm
remote control
…and all your evolving technologies needs.